C2C
H1-B/USC/GC/GC-EAD/H4-EAD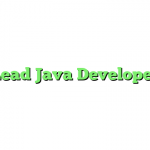 CENTRAPRISE GLOBAL PVT LTD
Hello,
Hope you are doing well.
Please have a look at the below job description and share some relevant profiles for this opportunity.
Position               :            Lead Java Developer
Location              :            Pleasanton, CA (Day 1 Onsite) 
Duration             :            Contract 
Experience         :            10+ years
Note: Need local candidates of California only.
Mandatory Skills: Core Java, J2EE, Spring Boot, Microservices
Must to have –  Prior experience supporting BFF for a mobile Development project
Job Description:
·         10+ Years Experience in Core Java, J2EE
·         Minimum 4+ years of experience in the Spring Boot Microservices Development
·         Experience in RESTful services and APIs
·         Object-oriented analysis and design using common design patterns.
·         Deep insight of Java and JEE internals such as memory management, transaction management, etc.
·         Knowledge in DevOps Pipeline (Jenkins/Deployment)
·         Knowledge in Splunk / Dynatrace
Warm Regards!
Sandeep Aggarwal
Direct: +1 (848-668-9626)
Email: sandeep.a@centraprise.com